7 face-slaps as a hands-on landlord
I'm sharing my horrible decisions. Now you can choose better.
A ten-month return on investment sounds sweet, doesn't it?
I bought my first rental and leased it fully furnished. I did it all myself. I felt like a genius. There was basically no competition and an extra $300 per month for furnished units. I spent about $3,000 on furniture and decor (sofas, plates, wall art, coffee tables, rugs, beds and bedding etc.).
So what went wrong? What did I learn? And what can you learn (whether leasing a furnished or unfurnished place)?
Mark Twain put it best: "A man who carries a cat by the tail learns something he can learn in no other way."
Here are my top seven.
Don't include features in the rent that cost you real money
I included internet (up to a GB limit) and utilities (up to a $ limit). I ended up spending time every month reconciling utility bills. The tenant got frustrated: they felt I was nickel & diming (or penny-pinching) even though the we'd agreed terms in the contract. Here's my original ad:

1,050 sq ft penthouse (36th floor) with 2 queen bedrooms, 2 full bathroom close to hospitals. Features 9' ceilings, three-quarter length windows, open-concept kitchen, new furniture and hardwood flooring throughout. Includes blu-ray player, 40" LCD TV, en-suite laundry. Opposite subway station. Includes one parking space, internet, cable, monthly maid service, utilities. Building has gym and swimming pool. No pets, no smoking. Minimum 6 mths.
Charge for items that cost you hard dollars, or better have the tenant pay for them directly.
Don't do furnished rentals
My coffee table after a few months with one tenant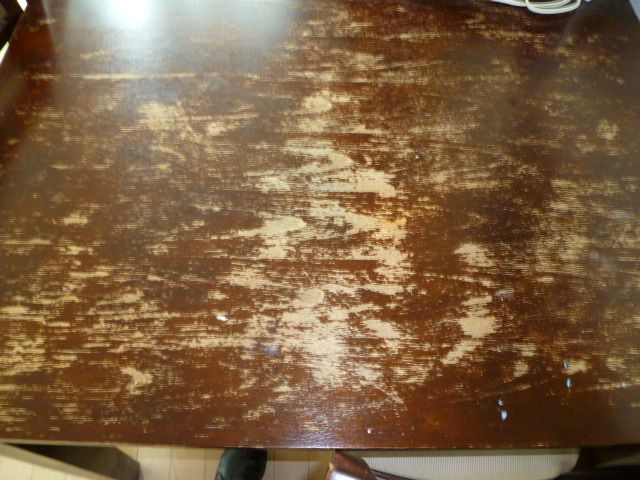 If you really want to do furnished rentals, make sure you've plenty of time and strong arm muscles.
Don't include things your tenants will pay extra for
I wrote an entire post on this:
Hidden sources of extra income
The same place with the (now battered) coffee table had a parking spot. So I leased out the unit with parking included in the rent.
When people read apartment ads they look at the headline monthly rent. They don't value the parking separately. Especially if they don't have a car. I now rent that same parking space for $165 per month and haven't changed the lease price on the main unit.
Another example is laundry. But you have to be careful with this one. In one of my buildings I have smartphone enabled laundry which brings in a few hundred dollars per year of profit. Tenants expect more expensive units, especially in the city, to include laundry.
An iPad doesn't come with a free set of noise cancelling headphones for a reason.
Charge separately for items you can lease out elsewhere (but be careful).
Don't do it all yourself
Yes, you can keep 4-10% of your rental income by finding and managing tenants yourself. I'm not going to try to talk you out of it. All I'll say is this: it takes more time and effort than you think. And it's stressful. Here's a snippet from the lawyer's letter of one of my previous tenants to me:

I have zero desire to spend time fretting and responding to stuff like this.
My first tenant was excellent. Trustworthy. Clean. Respectful. But his personal organization was a disaster. I'm not sure if he ever paid me rent on time. He always paid (eventually). But it was exhausting having to constantly remind him to pay.
Get a property manager you trust. Make sure your investment can bear the cost. Remember: property management expense is deductible from your revenue.
Don't ignore your gut on prospective tenants
I'll say this delicately. In many towns & cities you must accept the first tenant that comes along with the deposit. I consider that unethical. My assets = my choice of tenant. But often first-come-first-served is the law.
Today I have a property manager screen and manage tenants. I don't need to worry about the laws and ethics of choosing and declining prospective tenants. Property managers like to make life easy for themselves. That is, they like reliable and considerate people. Property managers are incentivized to. If they have to spend lots of time managing tenants, their costs go way up and they don't make money.
If you can choose your tenant, keep a high standard. Ask yourself if you would share a place with them for a week.
Don't advertise on Craigslist
This seems utterly obvious to me now (and probably to you reading). The finest human beings walking the planet tend not to find their homes on Craigslist or similar freebie spots. In my experience, for every 20 responses to an ad two bother to show up and only one of those will be half decent. Maybe. Oh and expect a LOT of back and forth on price and weird conditions. A huge time suck.
I once leased out a car parking space on Craigslist. The man who rented it met me in a (well-lit) alleyway, sent away his 'runner' to bring a bundle of cash, paid me a year up front from a rolls of $20's and insisted on no contract or paperwork. True story.
Get your listing on MLS or through word-of-mouth referrals you trust.
Don't underestimate the value of a guarantor
Guarantors are great. They're a free insurance policy. Your tenant decides not to pay? Fine, there's someone else - usually with high credit - that will. You're covered.
Just last year I had a great tenant - a new graduate - who got homesick and decided to move out after three months. The guarantor was on the hook and decided to move her ageing mother into the unit. Win-win.
Always ask for a guarantor. At the very least, get a solid security deposit if you can.
---
To summarize:
Don't include things in the rent that cost you money.
Don't do furnished rentals.
Don't include things your tenants will pay extra for.
Don't do it all yourself.
Don't ignore your gut on prospective tenants.
Don't advertise on Craigslist.
Don't underestimate the value of a guarantor.